< Back to all blogs
Cardio Machines and Weight Loss
August 21, 2018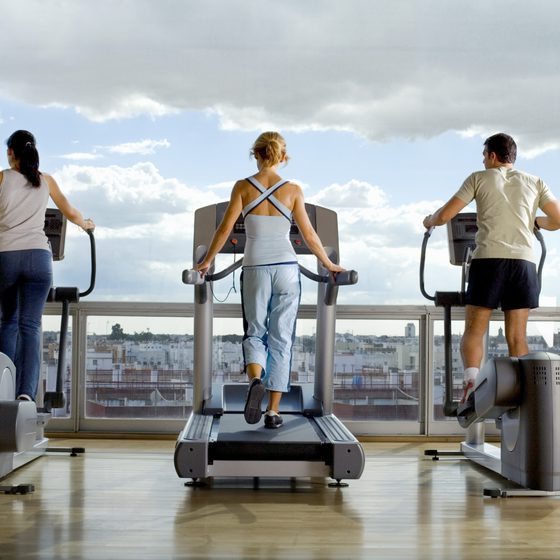 Treadmills and Ellipticals
How hard you push yourself determines how many calories you burn either on a treadmill or elliptical machine, or any other exercise machine. And instead of choosing one machine over the other, smart exercisers know that both of these aerobic-building cardio stations play a major role in helping you lost fat, stay slim and work off those last few pounds.
RX: In between days of strength training and yoga, for instance, do 1-2 days of either machine or try mixing and matching in one innovative session, for 15 minutes each. There are many more options!
Treadmills Blast Body Fat
Yet the activity is fairly tough to maintain at quicker paces. Running outside burns even more calories than running flats on your treadmill, say our fitness experts. On the other hand, elliptical machines with arm handles and resistance allow you to work your upper body along with your lower body, which you cannot do on a treadmill.
If you prefer to run, elliptical workouts can be a great way to reduce boredom and prevent injuries, such as back pain, minor sprains and strains.
Proper Technique Decides the Winner
Same form apply though: Do not hold onto the treadmill bar to help support your body weight as you walk on inclines or run. Similarly, if you grab onto any exercise handles – like the Step Mill or the commercial treadmill – you are cheating yourself out of the biggest calorie burn – and proper posture, which helps prevent overuse injuries.
Commercial Elliptical Machines
The lower impact of the elliptical cross-trainer allows you to zero in on your butt and thigh muscles while pedaling and driving through heels with each rotation. On the safe, fun elliptical machine elliptical your feet are connected to the pedals — and similar to bicycling. Standing elliptical movements are easier on the knees and joints of the body, and require less stabilization, so some may consider it a safer form of cardio.
If you are preparing for any kind of competitive running race, you're already working on speed, distance and stamina with running. If you have slight pains from al the running, it's a safer bet to hop onto the elliptical machine and blast calories on that to give your feet a break.
However, not running enough leaves you vulnerable to injury on race day. Your heart may be able to sustain a marathon distance run after training on the elliptical, but your ankles, feet, knees, hips, back, quadriceps, hamstrings and glutes (butt muscles) will not be ready for the continuous pounding.
We think there's a place for every piece of cardio equipment on a weekly regimen! Don't get stuck on the same-old machine every day though, or you'll stop seeing real results, Instead, start experimenting with pace, duration and intensity on several different machines.
Get your heart pumping and reduce stress on both the treadmill and the elliptical machine.
Which one you choose depends on your potential injuries, race goals and overall fitness level. Try cardio cross training – and get the best of both worlds, and shed a few pound just in time for pool season!