< Back to all blogs
How to Design a Fitness Center that Stands Out from the Competition
November 1, 2022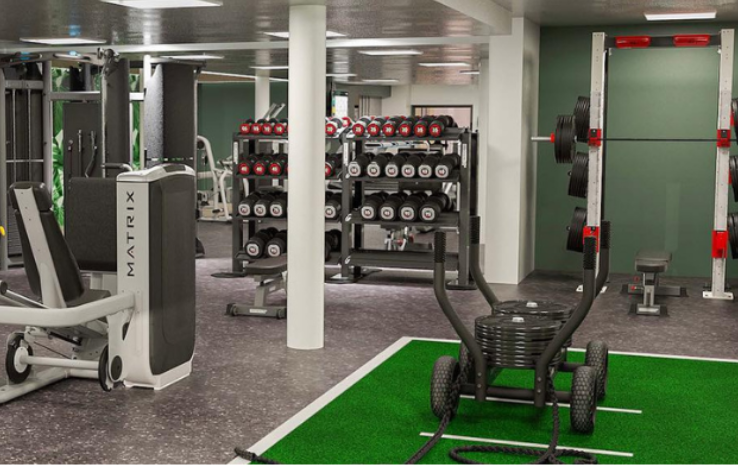 A fitness center is a great way to get people active and improve their health, but if you want your center to be successful, you need to put some thought into the design. In this blog post, we'll give you some tips on what to consider when designing your fitness center and how to make it stand out from the competition.
What to consider when designing a fitness center
Purpose of the fitness center: The first thing you need to think about is the purpose of your fitness center. Are you trying to attract athletes who are looking for a place to train? Or are you more focused on providing a place for multi-housing residence to come and get a workout in? Once you know who your target market is, you can start to design the space with their needs in mind.
Size and layout: Another important factor to consider is the size and layout of your fitness center. You'll need to have enough space for all of the equipment you plan on offering, as well as room for people to move around comfortably. If you're not sure how much space you'll need, it's a good idea to consult with a professional before making any final decisions.
Equipment and amenities: When it comes to outfitting your fitness center, you'll need to decide what kinds of equipment and amenities you want to offer. If you're catering to athletes, you'll want to make sure you have plenty of training equipment. If you're more focused on general fitness, then treadmills, ellipticals, and free weights should be sufficient. You should also think about adding locker rooms and showers for member convenience.
How to make your fitness center stand out from the competition
Making your fitness center stand out from the competition can be tough, but there are a few things you can do to set yourself apart. One thing you can do is offer unique programs that other gyms don't have. This could be anything from classes taught by certified instructors to personal training services. Another way to make your gym stand out is by offering discounts or monthly memberships that are cheaper than what the competition is offering.
Creating a positive environment for members
Creating a positive environment at your fitness center is crucial for keeping members happy and coming back year after year. There are a few things you can do to create a positive environment at your gym. First, make sure that the staff is friendly and welcoming. This will go a long way in making members feel comfortable at your facility. Second, keep the gym clean and well-maintained at all times. Nobody wants to work out in a dirty gym! Finally, make sure that the music played throughout the facility is upbeat and motivational – this will help keep members pumped up during their workouts.
Marketing your fitness center to attract new members
Attracting new members is essential for any business – including gyms! There are a few things you can do to market your fitness center and attract new members . One option is distributing flyers in local businesses or posting them in public places like community centers or libraries . You could also sponsor local events or charity races/walks and have your gym's name printed on participants' t-shirts . Another great way to market your gym is by offering free trials or discounted rates for first-time customers . This will give potential members a chance to try out your facility and see if it's right for them before committing to anything long-term .
Designing a successful fitness center takes some planning and thoughtfulness – but it's definitely worth it! By considering things like purpose , size , equipment ,and amenities ,you can create a space that meets the needs of your target market . And by offering unique programs , discounts ,and monthly memberships ,you can make your gym stand out from the competition . Plus ,by creating a positive environment and marketing effectively ,you can attract new members and keep existing ones coming back year after year! For more information on how to design a fitness center please contact your local Opti-Fit Representative.