< Back to all blogs
Benefits of a professional design before starting your fitness facility project
February 11, 2020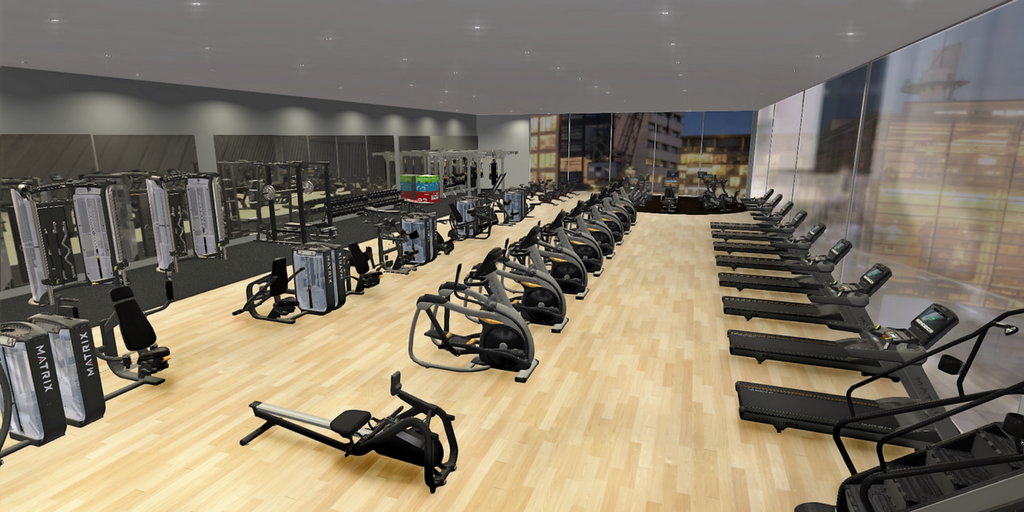 The health and fitness club industry is seeing exponential growth across all areas- from the number of fitness facilities to the revenue generated and consumer growth. In a report published by Statistica, the global health and fitness club industry was worth over $ 87 billion in 2017, up from $67 billion in 2009. Similarly, the number of fitness center memberships will continue rising. This upward trajectory is set to carry on as more consumers place value on their well-being, which means fitness investments will keep booming. However, facilities designed with the user in mind will enjoy a larger market share and client satisfaction and retention.
Investing in a professional design before setting up your fitness facility is one of the most effective ways to ensure high usage and efficient traffic flow. Read ahead to learn exactly how a great design contributes to the success of your fitness facility.
Visualize your project in 2D and 3D
Creating an ideal fitness training space requires you to work with professionals who can turn your vision into reality. It all starts with creating top-down 2D and 3D designs that simulate your complete project. This allows you to visualize how the facility will look like before embarking on the actual construction and equipment ordering. At this stage, you can redesign or make changes to the existing layout until it meets your requirements. With high-quality 2D and 3D designs in place, you'll have an easier time executing your plan.
Use space efficiently and improve client flow
It is vital for fitness facilities to maintain a clear, well-structured, and organized space. Professional design ensures proper use of space such that users are comfortable and have plenty of room for training. In an ideal design, all unnecessary items such as cupboards are moved to provide more floor space. The available space is then creatively used for essentials such as storage and wipes, water coolers, weight racks, and other vital accessories and equipment.
Good designs also take into account how typical workout routines function. With this in mind, you can arrange training equipment and accessories in a way that facilitates most activities, thus making it easier for users to move through their workout sessions. The bottom line is setting up the facility in a way that feels less cluttered so that users can freely move around while avoiding lines forming at certain equipment.
Determine where to place equipment
Getting the most out of your available space is all about considering how the facility's design impacts user experience. For this reason, ease of use and accessibility should always be the hallmark when laying out the equipment. A good idea would be categorizing equipment by type – such that specific sections of the facility are dedicated to weightlifting, cardio exercising, group training, mobility/stretching, or any other kind of workout. It makes sense if all cardio machines are placed together or if dumbbells are kept close to the free weight machines. This demonstrates how investing in a professional design for your project can help create the ideal training environment- safe, comfortable, high-performing, and motivating.
Electrical and WiFi needs
Modern fitness facilities have now stepped up their game from the traditional "warehouse feel" to designing for user satisfaction. One such trend is the increased adoption of self-powered training equipment, which is great for the logistics and overall safety of the users. Despite these advancements, electrical needs are still required in most fitness centers. While most gym owners tend to overlook this point in their planning stage, a professional design will take into account all mechanical, electrical, and internetrequirements. This includes planning power outlets for your training equipment, WiFi, visuals, audio, and any other accessories that require power within the facility.
Is your equipment meeting ADA requirements?
A fundamental requirement for all fitness training centers is to remove all barriers that may limit accessibility by people with disabilities. ADA compliance in a fitness facility covers all structural domains like parking, exterior entrances, elevators, doors, bathrooms, locker rooms, customer service desk, accessibility around training equipment, and all building accessories. Professional designs take into account ADA guidelines and standards for fitness facilities pertaining to equipment set-up and installation. Adhering to these regulations is a way of helping safeguarding your facility against future liability.
Summing it up
Investing in a professional design will have much positive impact on your fitness facility. If people are satisfied with the space they are in, there's a much better chance for them to stick to their exercise routines. This will lead to the advancement of the facility's overall status and higher client retention, thus helping your business achieve continuous growth and success.